Meet Dr. William Carr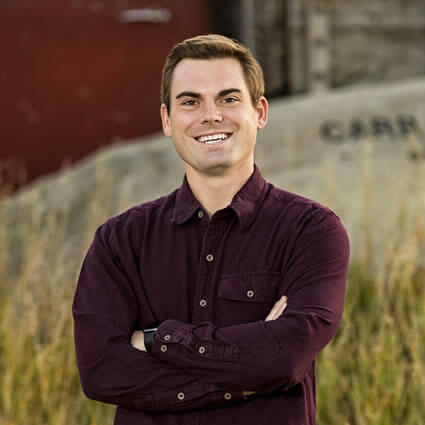 Dr. William Carr graduated from Huron High School and then received his bachelor's degree in Biology from the University of South Dakota. He went on to continue schooling at Northwestern Health Sciences University in Bloomington, Minn. At Northwestern, he graduated with a Doctorate in Chiropractic with Sports Emphasis. Along with his degree in chiropractic, Carr has been certified by the Department of Transportation to provide alcohol and drug testing and DOT physical exams.
A Chiropractic Journey
He has been a lifelong learner of chiropractic, learning from his grandfather, father, uncles and cousins. He first started working at Carr Chiropractic Clinic in college when he would come home for the summers. He worked as a Tech under his dad, uncle and cousin. Those years as a tech helped him gain a tremendous amount of knowledge that he used to help him succeed when he entered chiropractic school.
EXPLORE OUR SERVICES »

He chose to join the chiropractic field so he could carry on his family's legacy of chiropractic care in the state of South Dakota and because of its holistic approach to health and overall wellness, and a desire to help people.
Specialized Care for Athletes
Sports have been a huge part of his life. When he got to Northwestern and heard about the sports chiropractic tract, it was a no-brainer for him. Taking these extra classes helped him gain a better understanding for the demands of an athlete and help give them proper treatments when injuries occur.
The fundamentals he learned with the sports emphasis experience at Northwestern also helps treat non-athletes. A professor once told him that we are all athletes of life, and he has found this quote to be extremely accurate because we are all doing some form of athletic movement every day and we can incorporate a lot of the knowledge we have learned from high performance athletes and use them for the everyday patient.
Along with having experience in sports chiropractic, he has also trained in other therapies such as rehab, cold laser therapy, shockwave, instrument assisted soft tissue mobilizations, muscle release technique, compression band flossing, and digital X-ray reading.
Outside the Office
Outside of caring for people, he enjoys hiking, cycling, golfing, hunting, fishing and cheering on the Minnesota Vikings.
---
Dr. William Carr | (605) 352-5264