Meet Ashley Curnow, Registered Dietitian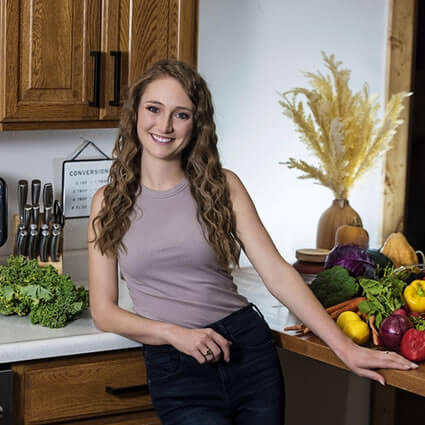 Ashley Curnow knew from a young age that her calling was to become a registered dietitian. Due to her own health ailments, she learned the true importance of proper nutrition.
After graduating from Dakota State University with her biology degree, where she also competed in cross country and track and field, she joined the team at Carr Chiropractic Clinic and worked under Dr. Wayne Carr while she finished her bachelors in Nutrition and Dietetics through University of Northern Colorado.
Ashley completed her multidisciplinary internship while continuing to see patients at Carr Chiropractic Clinic. She completed her credentialing through the Commission on Dietetic Registration and started her position as a Registered Dietitian in the summer of 2022.
A Unique Health Journey
Ashley's health journey is one that is as equally complex as it is unique. Ashley's experience as a patient is what led her to becoming a dietitian who specializes in functional medicine.
Because Ashley experienced first hand living with a rare ailment and was faced with challenges, she has unique skills and experience.
A Patient First Approach
Ashley recognizes the importance of the patient encounter. She ensures that all patients feel heard, supported, and important. While Ashley brings a great deal of knowledge to the encounter, she feels the patient is the true expert as they live in their body every day.
Ashley combines one-on-one nutritional consultation, comprehensive testing, lifestyle recommendations, and nutritional supplements to assist patients in developing the plan they are most comfortable with to reach their goals.
Outside the Office
When Ashley is not working with patients, you can find her lacing up her shoes and setting out for a run. Ashley and her husband, Braden, also have a passion for exploration. The two frequently enjoy camping at state and national parks.
Contact Us
Discover what functional medicine can do for you. Contact us to schedule an appointment today or email Ashley at ashleyr@midconetwork.com.
---
Ashley Curnow | (605) 352-5264