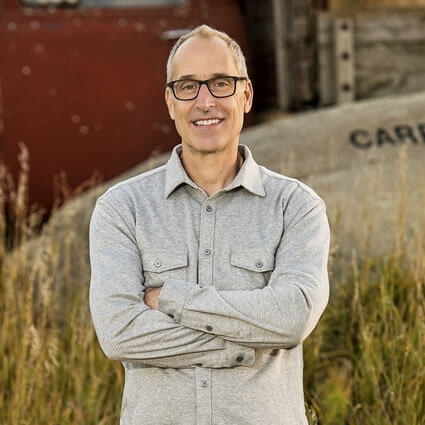 Dr. Joseph Nicholas Carr
Dr. Joe was born and raised in Miller, South Dakota, attended undergraduate studies at the University of South Dakota and received his Dr. of Chiropractic degree from the National Health Science University in Lombard, Illinois. His father, Dr. EW Carr was his role model on how to serve the patients we are fortunate to take care of. His mother, Norma who was a nurse, was the patriarch of the family who showed him how to take care of people and give them the love and respect they deserve. Both Dr. EW and Norma taught him how to be active with your family, church and community. Dr. Joe and his wife Lisa who is a 6th grade teacher in Huron have 4 children. William, Sarah, Samuel and Chloe. His primary location of practice is at Carr Chiropractic Clinic in Huron, South Dakota.
EXPLORE OUR SERVICES

Dr. Joe is proud to practice chiropractic care in rural South Dakota with his brothers, sons and nephews. He feels this is where he can make the greatest impact for his patients. Dr. Joe prides himself in being available for his patients and doing whatever it takes to help them achieve their health care needs and goals. He is a diplomate in chiropractic rehabilitation as well as certified in acupuncture among many other areas of emphasis within his practice. Dr. Joe has served on a multitude of local and state professional and civic organizations and continues to remain active in his profession and with his community. The bottom line is he cares for people old and young, new born babies to our adult population with many patients being well into their 90's. He enjoys seeing all types of condition from sports injuries, acute trauma, work related injuries, overuse syndromes, chronic pain and people just not feeling well. He cares for his community by being very active with the health and recreational needs of the area. Within Carr Chiropractic Clinic we have decades upon decades of experience and have built a very comprehensive chiropractic practice as well as a referral network not only in Huron but around the entire region in order to serve our patients with a multitude of options and procedures in a team approach. He has prided himself in keeping up with the changing environment of health care and staying abreast to the latest techniques and technology to better serve the patient with their healing process and recovery.
Our Vision and Mission
Our vision at Carr Chiropractic Clinic is the make a difference and our mission is to care for people, Dr. Joe is very proud to be able to carry out that vision and mission every day and looks forward to serving his patients on whatever care they may need assistance with. In his spare time he enjoys supporting the home teams, any outdoor adventure, and being with friends and family.
---
Dr. Joseph Nicholas Carr | (605) 352-5264